Newsletter - Issue 1 | March, 2015
SP Devices breaks new sampling rate record
In this newsletter we describe how we have achieved 8 GS/s using ADQ412-4G. We also highlight the use of ADQ412DC-3G at CERN.
SP Devices breaks new speed record – 8 GS/s with ADQ412–4G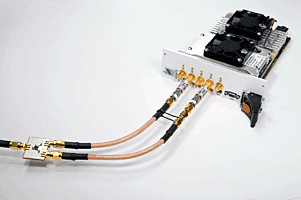 At SP Devices we always strive to push the limits of what can be achieved in terms of sampling rate and vertical resolution.
Our embedded signal processing for input signal path performance enhancement, such as the ADC time-interleaving IP ADX, helps us reach performance that is otherwise unobtainable and we have a proven track record of releasing such leading edge products.
Digitization of pulse signals benefits from dense sampling grids and with this in mind we have developed the first step towards 8 GS/s with 12 bits vertical resolution.
Using SP Devices' ADQ412-4G together with an external power splitter, we have been able to reach remarkable performance through the use of ADX (ADC time-interleaving mismatch error correction) which is a patented, commercially available IP which can be licensed for your specific requirements.
In case your application would benefit from 8 GS/s with 12-bit vertical resolution please let us know. We will then be able to timely secure your next high performance solution.

ADQ412DC-3G at CERN's neutron time-of-flight facility (nTOF)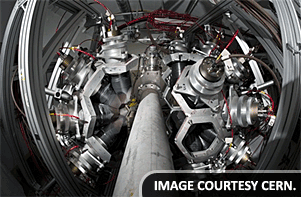 CERN's neutron time-of-flight facility (nTOF) is a pulsed neutron source which enables the study of neutron-nucleus interactions. The produced data helps improve the understanding of stellar evolution and supernovae, hadrontherapy (tumor treatment), and how to incinerate radioactive nuclear waste.
nTOF has been operating since 2001, and when it was time to upgrade the data acquisition system SP Devices' ADQ412DC-3G was selected after rigorous investigations of available digitizers.
"SP Devices' ADQ412DC-3G was selected after a long process of characterization and testing in compliance with the standard IEEE 1241 and the project requirements as variable dynamic range, gain and offset DC accuracy, acquisition noise performance and data transfer to the host controller memory. The collaborative approach and the effective support provided by SP Devices have been the keys to reach the challenging performances requested by the experiment." says Alessandro Masi, Equipment Controls and Electronics section leader, CERN.
The system uses the synchronization capabilities of the ADQ412DC-3G to realize a flexible multi-channel system that can operate as either a 24- or 48-channel system sampling at 3.6 or 1.8 GS/s respectively to support detectors with different time constants.
Sign Up for Our Newsletter and Read Previous Issues Online
Click here to sign up for the latest news from SP Devices!
Read previous issues online:
Issue #3, 2014 : Digitizers optimized for pulsed-data capture
Issue #2, 2014 : New digitizer with DC-coupled and programmable front-end (ADQ412DC)
Issue #1, 2014 : Unique Performance Advantages with ADX
Issue #1, 2013 : PCIe x8 Gen2 and SAR Recording System
Issue #1, 2012 : SP Devices Introduces High-Performance MTCA.4 µTCA Products
Issue #3, 2011 : Signal generation capabilities added to our latest product
Issue #2, 2011 : SP Devices and LeCroy collaborate on new products
Issue #1, 2011 : PCI Express Interface Added to Our Most Powerful Digitizers
Issue #2, 2010 : Release of our Latest 14-bit ADC Evaluation Module Which Features 1.6 GS/s
Issue #1, 2010 : Ultra High-Speed Digitizers with Xilinx Virtex 6 FPGAs
Follow Us:
Signal Processing Devices Sweden AB, Teknikringen 6, SE-583 30 Linkoping, Sweden
Copyright &copy 2004-2015, Signal Processing Devices Sweden AB. All rights reserved.
Names used herein may be trademarks of their respective owners.
---
---
SP Devices
Teknikringen 6
Linkoping, Ostergotlands 58330
Sweden

//