Newsletter - Issue 3 | May, 2015
ADQ10GBE - 10 Gbit Ethernet card in PXIe format
In this issue you can read about our ADQ10GBE Ethernet card. We also include a 2-minute video of our recently released ADQ14 digitizer platform.
ADQ10GBE - 10 Gbit Ethernet Card in cPCIe/PXIe Form Factor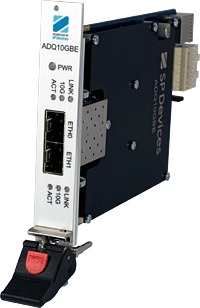 The ADQ10GBE module enables fast network connection from a cPCIe/PXIe chassis to an external host computer. It occupies a single slot in an 3U cPCIe/PXIe chassis and can be used with backplanes supporting up to x8 Gen2 PCIe. All necessary software drivers are included and can be installed on the PXIe controller. ADQ10GBE can be used under Windows 7 (32 or 64 bit), Windows 8 and 8.1, as well as Linux (native support or ixgbe source code).
The module supports two SFP+ 10 GbE modules (purchased separately) and can be used with either SFP+ direct attached copper cables (10GSFP+Cu, 10GBASE-CR, 10GBASE-CX1) at lengths up to 15 meters, or optical short range (10GBASE-SR) for fiber lengths up to 300 meters.
ADQ10GBE allows the user to achieve a high-speed link for data transfer over long distances from the digitizer to the host PC. The unit can be operated independently and can hence be used with cPCIe/PXIe modules from other vendors. Current examples of use include 5G prototyping systems and lidar.
A list of compatible Ethernet cards for the host PC can be found on the product page on our website here, but please do not hesitate contacting us if you have questions.
Introduction to SP Devices' latest digitizer platform ADQ14
Our recently released digitizer platform ADQ14 has quickly gained popularity. The digitizer family consist of 18 different models that all feature 14 bits vertical resolution and sampling rates up to 2 GS/s. We have prepared a short 2-minute video that gives an overview of these products and their capabilities. You can watch it by clicking the thumbnail below and please do not hesitate to contact us if you have additional questions!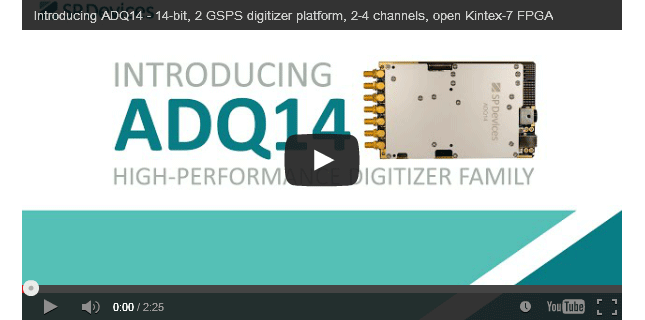 We are growing - join us!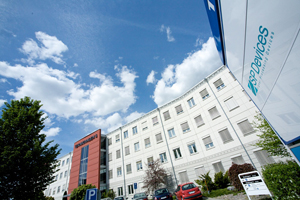 As a result of our stable business growth Signal Processing Devices, Inc. recently opened a new North America office in San Ramon, California (read the full story here).
The new office is positioned to further serve North America customers in the growth markets of remote measurement, mass spectrometry, optical coherence tomography, LiDAR, Radar, particle physics, signals intelligence, wireless communications, SATCOM, and defence.
Our ability to work with future technology is dependent on our success to attract professional talents. This is the main reason why we continuously are searching for people with suitable skills within our area of operation and we currently have open positions that can be found on our website here. Join us on our exciting journey!
Sign Up for Our Newsletter and Read Previous Issues Online
Click here to sign up for the latest news from SP Devices!
Read previous issues online:
Issue #2, 2015 : ADQ14 - 14-bit, 2 GSPS digitizer platform, 2-4 channels, open Kintex-7 FPGA
Issue #1, 2015 : Achieving 8 GS/s with 12-bit digitizer ADQ412-4G
Issue #3, 2014 : Digitizers optimized for pulsed-data capture
Issue #2, 2014 : New digitizer with DC-coupled and programmable front-end (ADQ412DC)
Issue #1, 2014 : Unique Performance Advantages with ADX
Issue #1, 2013 : PCIe x8 Gen2 and SAR Recording System
Issue #1, 2012 : SP Devices Introduces High-Performance MTCA.4 µTCA Products
Issue #3, 2011 : Signal generation capabilities added to our latest product
Issue #2, 2011 : SP Devices and LeCroy collaborate on new products
Issue #1, 2011 : PCI Express Interface Added to Our Most Powerful Digitizers
Issue #2, 2010 : Release of our Latest 14-bit ADC Evaluation Module Which Features 1.6 GS/s
Issue #1, 2010 : Ultra High-Speed Digitizers with Xilinx Virtex 6 FPGAs
Follow Us:
Signal Processing Devices Sweden AB, Teknikringen 6, SE-583 30 Linkoping, Sweden
Copyright &copy 2004-2015, Signal Processing Devices Sweden AB. All rights reserved.
Names used herein may be trademarks of their respective owners.
---
---
SP Devices
Teknikringen 6
Linkoping, Ostergotlands 58330
Sweden