Newsletter - Issue 4 | June, 2015
ADQ214-DCLN - New digitizer optimized for low noise
In this issue you can read about our new digitizer ADQ214-DCLN which is optimized for low noise measurements. We are also updating our warranty terms from 1 to 3 years!
ADQ214-DCLN - Ideal for low noise measurements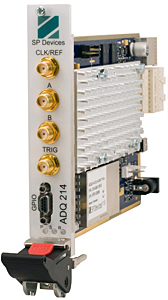 ADQ214-DCLN is a dual-channel, 14-bit, 400 MS/s digitizer optimized for excellent noise performance. It features a low-noise DC-coupled analog front-end with high dynamic range and the on-board real-time decimation effectively increases the resolution of the digitizer and allows for detailed and highly accurate study of lower frequency signals without the need of capturing massive amounts of data.
The ADQ214-DCLN is designed particularly for measurements of low-level noise in the frequency range from very low frequencies, below 0.1 Hz, up to 100 MHz. This is enabled by the low noise DC-coupled front-end which has exemplary noise performance both in terms of 1/f noise and wideband noise. The ADQ214-DCLN is essentially free of spurious distortion making it the ideal digitizer for high-performance testing.
ADQ214-DCLN is available in USB and PXI Express form factors and occupies a single slot in an 3U cPCIe/PXIe chassis. The module can either be used with chassis and controllers from major vendors or with custom backplanes provided through SP Devices' design services.
A software development kit (SDK) is included free of charge with the digitizer and can be used both under Windows and Linux. The on-board Xilinx FPGA is available to the end user through the optional ADQ Development Kit.
This product is ideal for phase noise measurement in lab environments as well as automated test equipment but also for other types of wideband analysis of weak signals such as for example power supply line analysis. The plot below shows the unprecedented idle channel noise level of the ADQ214-DCLN. Please do not hesitate contacting us if you have questions.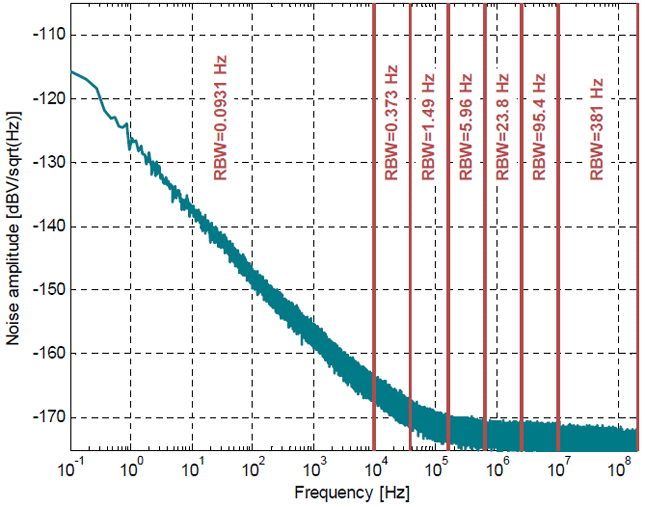 Now 3-year warranty on SP Devices' products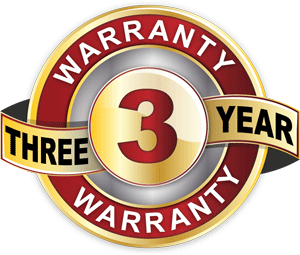 Buy with confidence - our products are manufactured to the highest standards of quality and technology, and we are therefore extending the standard warranty period from 1 to 3 years on all SP Devices' products purchased on or after June 1, 2015. The change in warranty terms shows our commitment to producing high quality, highly reliable instrumentation.
This warranty does not cover any accessories that may be provided with the product, including but not limited to cables and any other peripherals.
Please refer to our terms and conditions for details on the warranty.
Sign Up for Our Newsletter and Read Previous Issues Online
Click here to sign up for the latest news from SP Devices!
Read previous issues online:
Issue #3, 2015 : ADQ10GBE - 10 Gbit Ethernet card in PXIe format
Issue #2, 2015 : ADQ14 - 14-bit, 2 GSPS digitizer platform, 2-4 channels, open Kintex-7 FPGA
Issue #1, 2015 : Achieving 8 GS/s with 12-bit digitizer ADQ412-4G
Issue #3, 2014 : Digitizers optimized for pulsed-data capture
Issue #2, 2014 : New digitizer with DC-coupled and programmable front-end (ADQ412DC)
Issue #1, 2014 : Unique Performance Advantages with ADX
Issue #1, 2013 : PCIe x8 Gen2 and SAR Recording System
Issue #1, 2012 : SP Devices Introduces High-Performance MTCA.4 µTCA Products
Issue #3, 2011 : Signal generation capabilities added to our latest product
Issue #2, 2011 : SP Devices and LeCroy collaborate on new products
Issue #1, 2011 : PCI Express Interface Added to Our Most Powerful Digitizers
Issue #2, 2010 : Release of our Latest 14-bit ADC Evaluation Module Which Features 1.6 GS/s
Issue #1, 2010 : Ultra High-Speed Digitizers with Xilinx Virtex 6 FPGAs
Follow Us:
Signal Processing Devices Sweden AB, Teknikringen 6, SE-583 30 Linkoping, Sweden
Copyright &copy 2004-2015, Signal Processing Devices Sweden AB. All rights reserved.
Names used herein may be trademarks of their respective owners.
---
---
SP Devices
Teknikringen 6
Linkoping, Ostergotlands 58330
Sweden