Newsletter - Issue 1| June, 2016
ADQ14-FWPD pulse detection firmware for data driven acquisition
In this issue you can read about market leading 14-bit multi-channel digitizer ADQ14 which is now extended with an advanced pulse detection firmware. The pulse detection firmware includes software for high speed data storage.
ADQ14 is a market leading 14-bit digitizer with up to 4 channels and sampling at up to 2 GSPS per channel. The firmware package FWPD enables data driven pulse capture on individual channels, which enables the digitizer to follow individual events in an optimal way. The time-stamp feature links the timing of the pulses to each-other and a complete scenario is recreated in the post analysis. There are two key elements; the acquisition that is controlled by a pulse detection function, and the length of each recording that is adapted to the pulse length. This means that only interesting data is recorded and zeros (no data) are suppressed, which saves valuable disk space.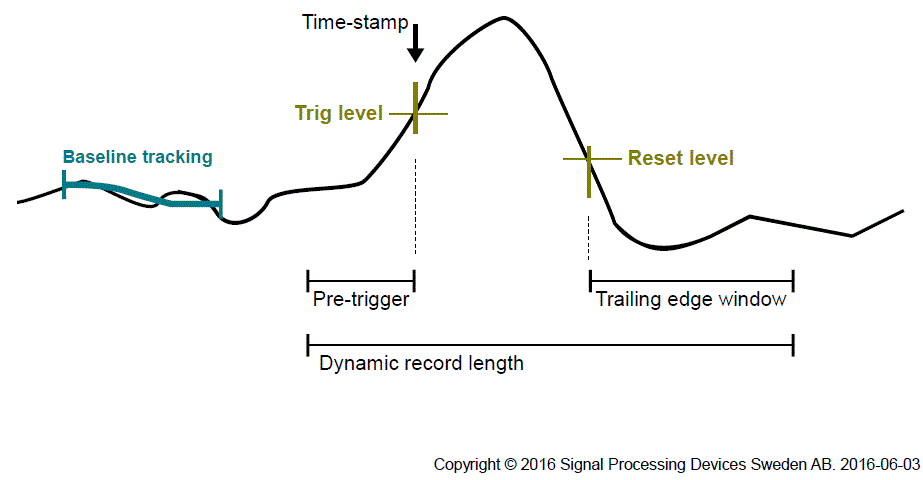 EASY INTEGRATION
The firmware option FWPD is very powerful automatic pulse identification function. To support the user to do an efficient control of the firmware there is a GUI and example code covering all aspects from digitizer control to writing data to disk. This software package speeds up the integration and shortens time to market.
SP DEVICES' BASELINE SOLUTIONS
To identify pulses a stable pulse base reference is needed. This is achieved by SP Devices' proprietary technology for digital baseline stabilization (DBS) which tracks and controls the baseline with up to 22 bits precision. The DBS effectively suppresses long term fluctuations and temperature gradients of the baseline and guarantees reliable pulse analysis. In addition to that, the rapid changes in the baseline, for example, from leakage of large pulse, are handled by a moving average baseline tracking filter.
REAL-TIME PULSE ANALYSIS
The firmware option FWPD also includes real time pulse analysis functions for peak and width measurements. The pulse measurement results are available as lists of data or summarized in histograms. A custom real time analysis of any parameter is easily implemented using the ADQ14 development kit, which opens the FPGA to the user.
MULTI-CHANNEL SOLUTIONS
ADQ14 supports a multi-channel solution with synchronization of very many channels. Below is a 16 channels system with disk storage.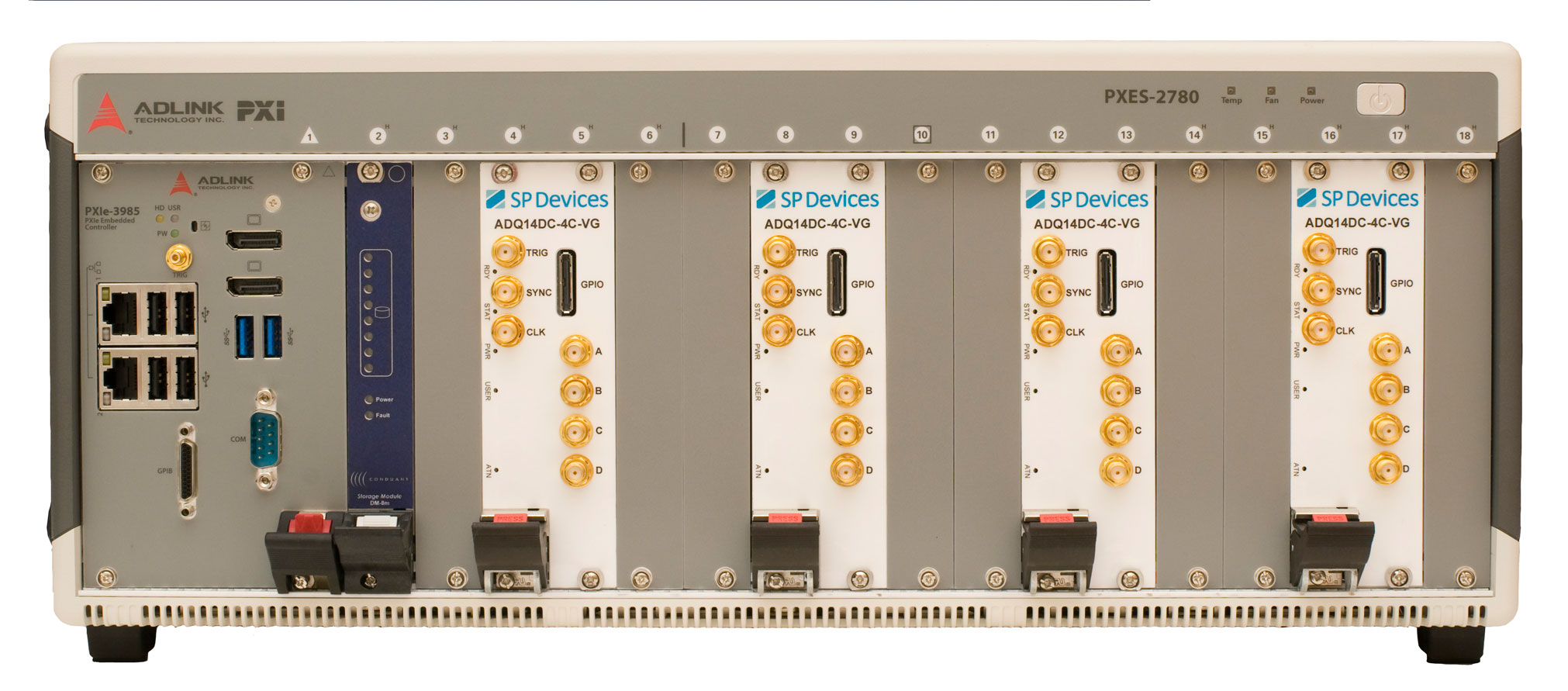 RECORDING TO DISK EXAMPLE
The ADQ14-FWPD supports efficient pulse acquisition. The ADQ14 also supports real-time storage to disk. Included with the firmware is example software for saving the pulses to disk up to 3GByte/s.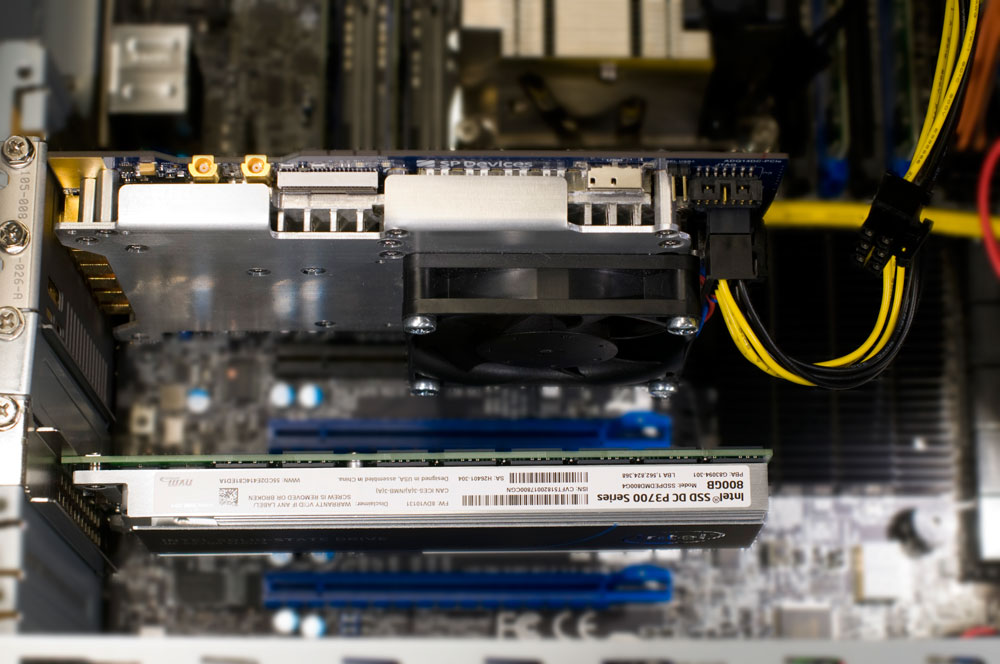 For more information please visit www.spdevices.com and do not hesitate to contact us if you have questions.
Click here to sign up for the latest news from SP Devices!
Read previous issues online:
Issue #5, 2015 : Comparison of Digitally-Enhanced GS/s Analog-to-Digital Converters
Issue #4, 2015 : ADQ214-DCLN - New digitizer optimized for low noise
Issue #3, 2015 : ADQ10GBE - 10 Gbit Ethernet card in PXIe format
Issue #2, 2015 : ADQ14 - 14-bit, 2 GSPS digitizer platform, 2-4 channels, open Kintex-7 FPGA
Issue #1, 2015 : Achieving 8 GS/s with 12-bit digitizer ADQ412-4G
Issue #3, 2014 : Digitizers optimized for pulsed-data capture
Issue #2, 2014 : New digitizer with DC-coupled and programmable front-end (ADQ412DC)
Issue #1, 2014 : Unique Performance Advantages with ADX
Issue #1, 2013 : PCIe x8 Gen2 and SAR Recording System
Issue #1, 2012 : SP Devices Introduces High-Performance MTCA.4 µTCA Products
Issue #3, 2011 : Signal generation capabilities added to our latest product
Issue #2, 2011 : SP Devices and LeCroy collaborate on new products
Issue #1, 2011 : PCI Express Interface Added to Our Most Powerful Digitizers
Issue #2, 2010 : Release of our Latest 14-bit ADC Evaluation Module Which Features 1.6 GS/s
Issue #1, 2010 : Ultra High-Speed Digitizers with Xilinx Virtex 6 FPGAs
Follow Us:
Signal Processing Devices Sweden AB, Teknikringen 6, SE-583 30 Linkoping, Sweden
Copyright &copy 2004-2016, Signal Processing Devices Sweden AB. All rights reserved.
Names used herein may be trademarks of their respective owners.
---
---
Signal Processing Devices Sweden AB
Teknikringen 6
Linköping, 58330
Sweden


Read the VerticalResponse marketing policy.