Newsletter - Issue 1 | September, 2010
SP Devices Launches New TIGER Digitizer Family
Ultra High-Speed Digitizers with Xilinx Virtex 6 FPGAs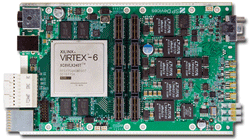 Equipped with state of the art analog-to-digital converters, powerful Xilinx Virtex 6 FPGAs, and SP Devices proprietary interleaving technology ADX, the new TIGER Digitizer family from SP Devices achieves previously unmatched performance. The digitizers are based on the Virtex 6 based TIGER DSP digital signal processing board in combination with a number of analog mezzanine boards that cover a wide variety of high-performance application areas.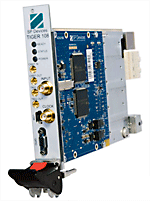 The ADQ108 TIGER offers 8 bits vertical resolution and an exceptional 6.4 Giga sample per second (GSPS) sample rate which is well matched by an accompanying analog input bandwidth of 3 GHz. Due to its remarkable performance, the ADQ108 TIGER is an ideal platform for spectrometry, radar, and demanding wideband RF/IF sampling.

The 12-bit ADQ412 TIGER provides software-configurable two- or four-channel mode of operation with up to 3.6 GSPS sample rate - probably making it one of the world's fastest 12-bit digitizers! With its unique combination of high sample rate and high resolution, the ADQ412 TIGER enables data capturing without trade-offs. Typical application areas include radar, lidar, and software-defined radio.
TIGER Digitizer Family Features
Easy Integration with Your Existing Software - The TIGER Digitizers come with an easy-to-use API that allows for convenient integration into any application. The software development kit (SDK) for application development includes C/C++, Matlab, and dynamic-link libraries (DLLs) for Windows XP/Vista. The SDK also includes SP Devices' data capture tool, ADCapture Lab.
Add Your Own Customized Real-Time DSP - The optional ADQ Development Kit gives the user access to the powerful Xilinx Virtex 6 FPGA, allowing for demanding and time-consuming digital signal processing to be moved from the host PC to the FPGA for real-time execution.
Rich Set of Acquisition Functions - The TIGER family supports several trigger options, including external trigger, software trigger, and level trigger. The different trigger types can be combined with multi-record data capture, which allows the user to specify the number of samples to be captured at each trigger occurrence. The digitizers also feature a trigger output which can be used for high-precision triggering of other TIGER devices. A time-stamp function tags each record with precise timing information.
Flexible Clocking Options - The digitizers can be clocked with either internal or external clock sources and synchronized with external measurement equipment through the 10 MHz external clock reference connector.
Compact Form Factor and Choice of Interface - Implemented as a 3U 4TE Eurocard, the TIGER Digitizers measure only 100 x 160 mm and are offered either as a stand-alone USB 2.0 version or as a PXI Express version for use with an external chassis.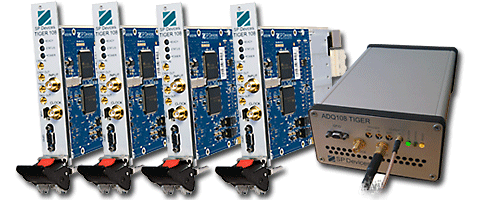 The TIGER Digitizer family is available with either PXI Express or USB interface.
About SP Devices' ADX Interleaving Technology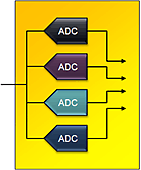 Time-interleaving of analog-to-digital converters (ADCs) is a way to increase the overall system sample rate by using several ADCs in parallel. The challenge is to handle the mismatch between the individual ADCs, especially at higher frequencies. With its unique self-learning and high-resolution capabilities, SP Devices' ADX technology offers previously unseen performance. Corrections are made transparently and in real-time without any need for calibration signals or idle time slots during which to perform calibration. The mismatch correction algorithm supports a resolution of up to 16 bits, with a preserved SFDR of up to 95 dB, depending on the properties of the specific ADC array.
SP Devices Provides Solutions to the Complete Value Chain
We help our customers to improve competitiveness regardless of where they are positioned in the value chain. The offering from SP Devices covers the complete range from Silicon Manufacturers to System Integrators. SP Devices' products are available as Silicon IP, FPGA IP, reference designs, and complete digitizer boards.
The ADX interleaving technology is available as silicon IP for chip manufacturers and semiconductor companies who need to increase ADC sampling speed. ADX is also available as FPGA IP, targeting the market of system suppliers, digitizer companies, and T&M companies.
For customers who do not want to design their own digitizer solution, SP Devices offers both off-the-shelf digitizer solutions as well as customized digitizers.
Follow Us:




Signal Processing Devices Sweden AB, Teknikringen 6, SE-583 30 Linkoping, Sweden
Copyright &copy 2004-2010, Signal Processing Devices Sweden AB. All rights reserved.
Names used herein may be trademarks of their respective owners.
---
---
SP Devices
Teknikringen 6
Linkoping, 58330