| | |
| --- | --- |
| Newsletter - Issue 3, September 2016 | |
Introducing ADQ14OCT – A 14-bit digitizer optimized for Swept-Source Optical Coherence Tomography
In this issue you can read about the new high-speed, 14-bit digitizer ADQ14OCT specialized for Swept-Source Optical Coherence Tomography (SS-OCT)
Signal Processing Devices, a manufacturer of high-performance digitizers today announces the release of ADQ14OCT, the latest member of the successful ADQ14 14-bit digitizer family. The ADQ14OCT is optimized for use in SS-OCT applications and contains all features necessary to support the acquisition of cross-sectional and volume images.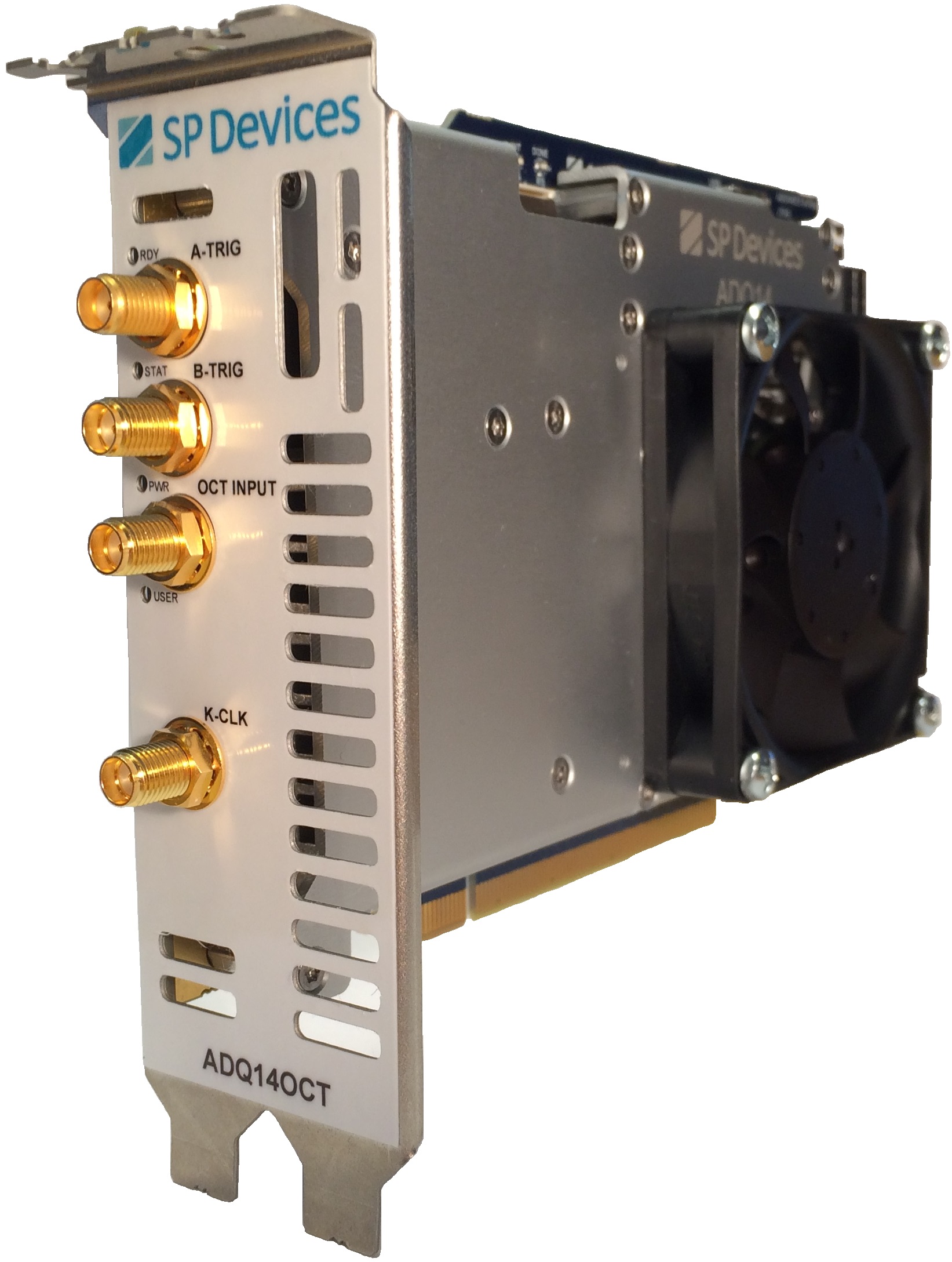 The ADQ14OCT digitizer supports a variable-frequency clocking from a laser K-clock starting at 10 MHz and going up to 1000 MHz and high-dynamic range capture of full-bandwidth OCT signals. Acquisition of cross-sectional and volume images are easily controlled using the programmable A-scan and B-scan trigger inputs.
The ADQ14OCT is available with x8 Gen 2 PCI-e interface for very high-speed data transfer to host PC as well as with a USB 3.0 interface for compact designs. It features an embedded and programmable real-time FFT core (up to 32k points).
Since ADQ14OCT is based on high-performance 14-bit analog-to-digital converters, it provides very low spurious errors and low noise which together help enable the highest possible quality of the produced images. It is thus the ideal solution for single-channel SS-OCT instrumentation.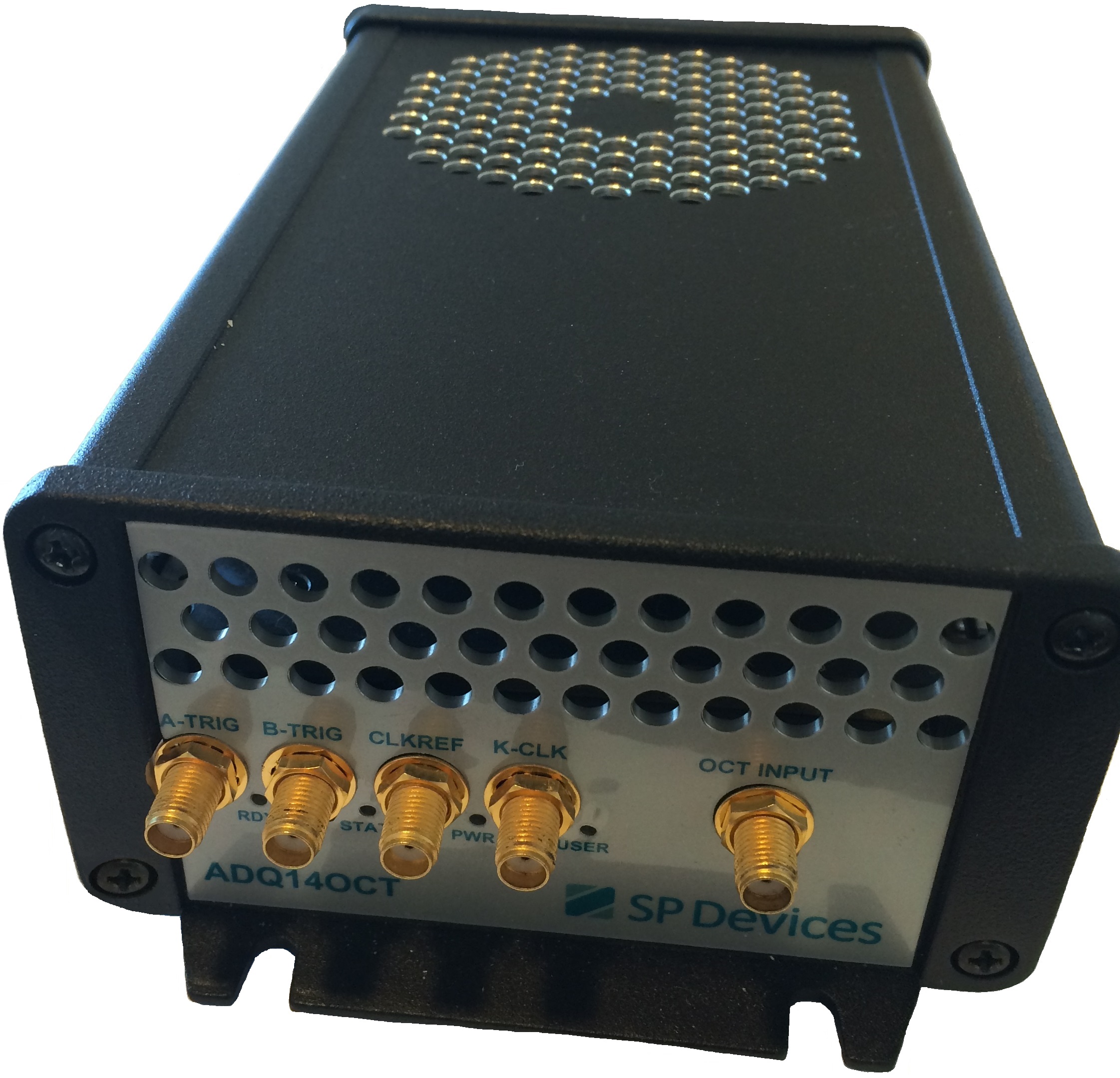 The USB3.0-version of the ADQ14OCT digitizer. Laser K-clock, A-scan trigger, B-scan trigger, and photodetector output signals are connected via 50-Ohm SMA connectors. In addition, the A-scan and B-scan trigger inputs feature programmable input impedances and threshold levels to simplify integration.The ADQ14OCT supports direct streaming to host PC but is also equipped with 2 GByte on-board data memory. The digitizer can easily be programmed with C/C++ as well as Matlab™.

Please visit www.spdevices.com for more information regarding our digitizers in general or the ADQ14OCT in particular.
Meet us at Electronica!
Please visit us at Electronica in Munich on November 8 - 11 where we will be showcasing the latest in signal processing solutions achieved by the synergies of combining e2v and SP Devices' world-leading technologies through the recent acquisition of SP Devices by e2v. We will be showing both our latest digitizers as well as broadband data converters from e2v, and you will find us in booth A5.539. e2v is the official Silver Sponsor for Electronica 2016.
Sign Up for Our Newsletter and Read Previous Issues Online
Read previous issues online:
Issue #2, 2016 : FWSDR-A firmware for turning the ADQ14 Digitizer into a Software Defined Radio
Issue #1, 2016 : ADQ14-FWPD pulse detection firmware for data driven acquisition
Issue #5, 2015 : Comparison of Digitally-Enhanced GS/s Analog-to-Digital Converters
Issue #4, 2015 : ADQ214-DCLN - New digitizer optimized for low noise
Issue #3, 2015 : ADQ10GBE - 10 Gbit Ethernet card in PXIe format
Issue #2, 2015 : ADQ14 - 14-bit, 2 GSPS digitizer platform, 2-4 channels, open Kintex-7 FPGA
Issue #1, 2015 : Achieving 8 GS/s with 12-bit digitizer ADQ412-4G
Issue #3, 2014 : Digitizers optimized for pulsed-data capture
Issue #2, 2014 : New digitizer with DC-coupled and programmable front-end (ADQ412DC)
Issue #1, 2014 : Unique Performance Advantages with ADX
Issue #1, 2013 : PCIe x8 Gen2 and SAR Recording System
Issue #1, 2012 : SP Devices Introduces High-Performance MTCA.4 µTCA Products
Issue #3, 2011 : Signal generation capabilities added to our latest product
Issue #2, 2011 : SP Devices and LeCroy collaborate on new products
Issue #1, 2011 : PCI Express Interface Added to Our Most Powerful Digitizers
Issue #2, 2010 : Release of our Latest 14-bit ADC Evaluation Module Which Features 1.6 GS/s
Issue #1, 2010 : Ultra High-Speed Digitizers with Xilinx Virtex 6 FPGAs
Click here to sign up for the latest news from SP Devices!
Follow Us:
Signal Processing Devices Sweden AB, Teknikringen 6, SE-583 30 Linkoping, Sweden
Copyright &copy 2004-2016, Signal Processing Devices Sweden AB. All rights reserved.
Names used herein may be trademarks of their respective owners.
---
---
Signal Processing Devices Sweden AB
Teknikringen 6
Linköping, 58330
Sweden


Read the VerticalResponse marketing policy.