Sophisticated tools for efficient pulsed data collection
The pulse detection firmware option "FWPD" equips ADQ14 with sophisticated tools to identify, analyze, and adaptively collect pulsed input signals in real-time. The firmware consist of two parts; pulse identification and pulse analysis:
The pulse identification tracks the baseline and identify when pulses begin and end. The data capture supports dynamic record length with built-in zero suppression that help relax data transfer rate and saves disk space. Coincidence triggering detects simultaneous events on multiple channels based on user-defined logic conditions.

The pulse analysis finds the peak value and the width of a pulse. Real-time calculations are enabled by the on-board high-performance open FPGA. There is also a detection window mechanism that allow for accepting or rejecting detected pulses.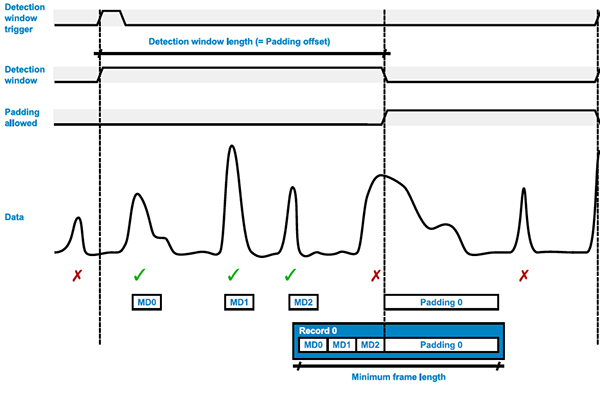 FWPD for ADQ7 is scheduled for release in Q3, 2018.
BENEFITS

Digital Baseline Stabilizer (DBS)

Adaptive record length for zero suppression and optimal memory usage

Detection window for selecting pulses

Per-channel individual level trigger

Multi-unit synchronization

Real-time data analysis

Padding for activity control

Flexible data collection

Histograms of pulse metadata

Coincidence trigger for channels interaction

APPLICATIONS

Big Physics

Time-of-flight

Scientific instruments

RADAR

LIDAR

Neutron time-of-flight
Meet us at these upcoming events!
---
International Mass Spectrometry Conference (IMSC)
International Beam Instrumentation Conference (IBIC)
Teledyne Signal Processing Devices Sweden AB, Teknikringen 6, SE-583 30 Linkoping, Sweden
Copyright © 2004-2018, Teledyne Signal Processing Devices Sweden AB. All rights reserved.
Names used herein may be trademarks of their respective owners.